From a virulent pandemic, to a contentious presidential election, this year has been hard on almost everyone, and while we might not be able to celebrate the holidays with our loved ones like we want to, all is not lost. We've put together our annual gift guide featuring the best clean beauty products for the special people in your life – hint: that includes you!
Our gift guide features a variety of clean beauty items for every budget and taste.
With St. Eden Holiday Gift Guide, we hope we can help you choose the perfect gift for your loved ones this holiday season.
Spend $30 or Less
This lightweight creamy concealer by ,,Ilia Beauty delivers medium coverage with a silky, serum like texture that blends seamlessly into the skin. it is effective at reducing the appearance of dark circles and discolorations, and comes in 12 gorgeous shades. Get it ,,here.
Handmade in small batches, ,,Cleer Life's Bergamot & Lemongrass Body Sugar Scrub will keep your skin smooth and hydrated year-round. Get it ,,here.
Who doesn't want plump skin? ,,Skin & Soul's Watermelon Hydro Serum is full of powerhouse ingredients like hyaluronic acid, watermelon extract, aloe, and gogi berry extract to add hydration and radiance to your skin. Get it ,,here.
Spend $50 or Less
Discover a new weapon in your beauty arsenal. ,,Eve Milan's new Brightening Vitamin C + CoQ10 mask has a powerful natural ingredient called CoQ10 that firms skin and increases collagen reproduction. Get it ,here.
,,OY-L's Be Well Kit contains a plant-based hand sanitizer a body serum to relieve dryness, an antibacterial powerhouse in a roll-on for an aromatherapy boost and a cotton face mask- all bundles in this beautiful reusable pouch. Get it ,,here.
,,Mented Cosmetics Sleigh Sis Gloss Collection is too sweet to pass up. Gift wrapped in this gorgeous holiday box, the Sleigh Sis collection is the perfect gift for the special ladies in your life. Each gloss is vegan, non-toxic, black-owned and made in the USA. Grab a box ,here.
Spend Under $100
Do you have combination skin? ,,Eve Milan's Balancing Trio for Combination Skin has you covered. This set takes care of steps 1-3 of your routine focusing on proper cleansing for oil control and moisture balance, along with gentle exfoliation. Your skin will be left clean, bright, and smooth. Get it ,here.
,,OY-L's Manuka Mask blends together Manuka 20+ honey with natural exfoliating agents, organic lavender, and rosebuds. Customers describe it as "addictive." Get it ,,here.
From cleansers and toners to retinol and SPF, this ,,Versed limited edition bundle has it all. Get it ,,here.
Spend Under $200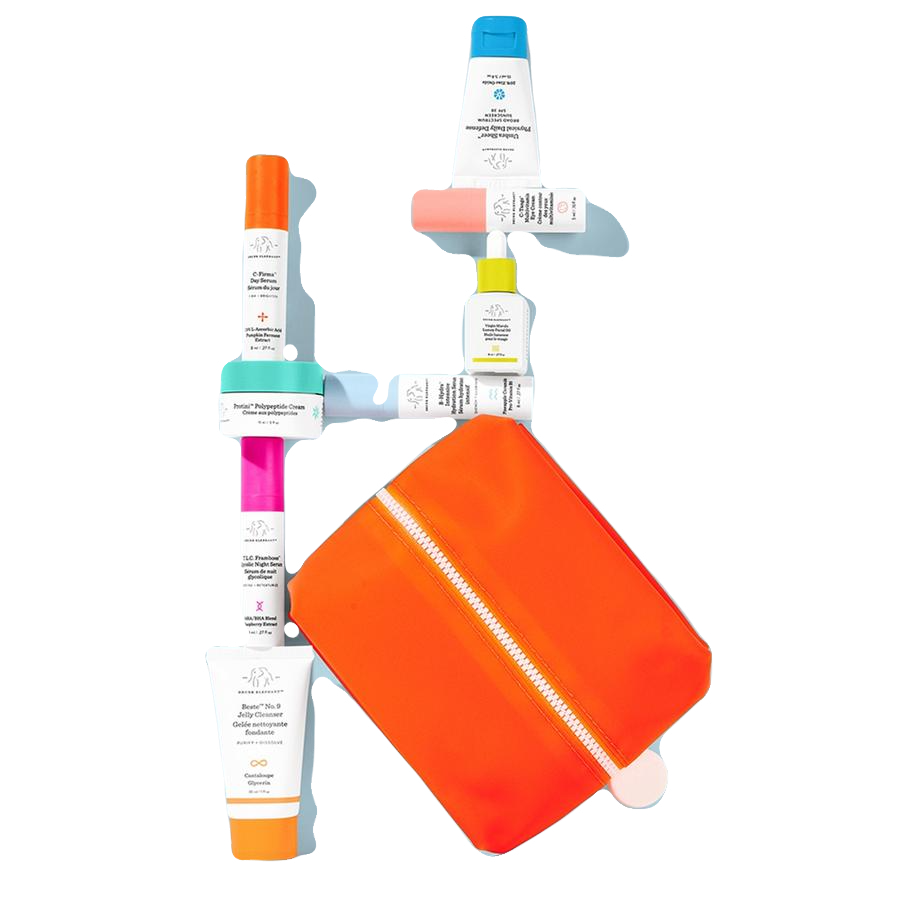 These three quick-to-absorb staples from Otto Skin Goods give you everything your complexion needs, and then some! Say goodbye to visible skin discoloration—the Fresh Start Face Oil helps to soften and smooth for that fabled glow. Pull an all-nighter? Dull, tired skin doesn't stand a chance against the ultra-calming Multitasker Night Serum. And when your face needs a hydration boost, the Go-Getter Day Serum will do the trick. Get this powerful trio ,,here.
Have it all, the Saie way! Everything you need in your makeup bag, nothing you don't. All wrapped up in this ,,limited edition holiday box. From Glowy Super Gel, to Dew Balm, to Mascara 101, this kit will take you from your 2-minute makeup look to beyond. Get it ,,here.
Drunk Elephant has some gorgeous ,,gift sets that give you an opportunity to try the majority of the line, at a fraction of the price. Hello, beautiful, clean, glowing skin and hair! Get our favorites ,,here and ,,here.
Happy Shopping!