What will you discover on the Garden?
Treasures that heal, hydrate, nourish, grow, soothe and moisturize, consciously curated with you in mind. If you're shopping for clean beauty, you'll find something here and never feel lost again.
Dede Eco
In a world where health and cleanliness are top of mind, Dede was created. Dede hair & beard purifying mist is the first of its kind to the market; a revolutionary vegan product that makes hair and beards fresh and germ-free in minutes, just like a hand sanitizer does to hands! Better yet, it's completely safe to use from head to toe.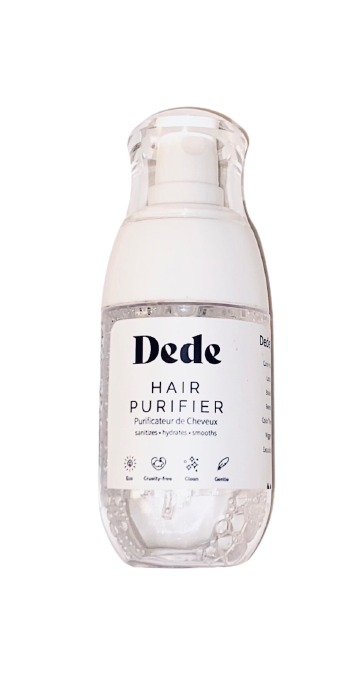 4C Only
4C ONLY is a black-owned hair care company that believes in embracing your true self and the freedom that comes from doing so. Their motto is 'you deserve space to express yourself, from the roots out.' 4C ONLY offers a shampoo, conditioner, and styling cream created specifically for incredibly delicate 4C hair types. All of their products use natural and/or organic ingredients, with simple labels so their customers understand exactly what's going in their hair.
Nala Care
Nala is a 'free-from' skincare line that provides high quality, efficacious products while encouraging deep self-care. Free-from means Nala products will always be free from the worst offenders in the cosmetic world. Offering a variety of scented natural deodorants, Nala also offers a unique opportunity to personalize your deodorant! You choose the strength, the scent, and you can even have your name printed on the packaging. Talk about a personal touch!
Aura Inner Beauty
AURA Inner Beauty creates premium inner beauty products that nourish your beauty from within while connecting your body, mind, and soul as your own healthy, vibrant AURA. All of AURA's formulas start by nurturing your gut health from within using their AURA Flora probiotic blend. From liquid collagen to a cleansing beauty detox powder and even chic rose gold accessories, AURA has you covered – from the inside out.
Eluo Beauty
Eluo (Latin: to cleanse, clean) was born out of the desire to start a new dialogue around beauty. Eluo believes the way you cleanse and care for your skin is much more than a multi-step product application, it's an opportunity to show yourself care. Their all-natural powder blends have been carefully formulated with certified organic and ethically wildcrafted ingredients. Glorious powders that transform into face masks and a soothing, balancing facial oil are the stars of the Eluo line.
Curie
Curie launched their clean, aluminum-free deodorant in 2018, and quickly grew a cult-like following because it ACTUALLY works. They now offer three effective products in brilliantly eye-catching packaging. Try their aluminum-free deodorant, all-over deodorant spray, and a hydrating hand sanitizer, or grab their starter pack to experience the full line!
Prim Botanicals
Prim Botanicals' focus centers around scents and spreading happiness – two of their founder's personal obsessions. Their lovely line of products includes incredible smelling perfume oils, natural deodorants, body scrubs, and CBD gels and lotions to assist with pain and relaxation.
Discover any new favorites? Let us know what you try! We may just feature your review in our next Product Crush List.